June 24, 2022: AAUW Strongly Condemns U.S. Supreme Court decision overturning Roe v. Wade
WASHINGTON, D.C. – The following is a statement from Gloria L. Blackwell, AAUW Chief Executive Officer:
"The American Association of University Women (AAUW) strongly condemns the U.S. Supreme Court's decision in Dobbs v. Jackson Women's Health Organization. The decision overturns the landmark Roe v. Wade ruling that established abortion as a constitutionally protected right nearly 50 years ago and ignores the will of the American people, 80% of whom support legal abortion.
AAUW believes everyone has the right to make decisions about their own reproductive lives without government interference. Abortion access is vital to women's ability to control their lives, bodies and futures. Without reproductive freedom, there can be no equity.
Being able to choose whether and when to become a parent improves women's well-being and fosters economic security—a crucial component of AAUW's mission. This is particularly important in a country that lacks accessible maternal health care, paid caregiving leave and workplace protections for pregnant workers.
The Court's decision hurts all of us, but it will do the most harm to low-income people, women of color, immigrants, people with disabilities and LGBTQ+ people, because these groups already face substantial barriers to accessing reproductive services and health care.
While the Court's decision is a major setback for all Americans, AAUW remains steadfast in our commitment to protecting reproductive rights, a vital component of gender equity."
2022 May: Installation Luncheon, Alta Sierra Country Club
An end-of-year luncheon was held at Alta Sierra Country Club on Tuesday, May 3rd.
Outgoing officers and committee members whose terms were ending were recognized and thanked, and the incoming Board installed. Executive Board members are pictured. See the Lodestone for a complete list of the 2022-23 officers/committee chairs.
Teri McConnell was honored with the Edi Silverman award. as were named gift honorees: Mari Weaver, Jane Winter, Diane Kellegrew, and Sue Miller. Ann Shulse was honored with a scholarship in her name, created by those members who showed their appreciation of her longtime steerage of the Local Scholarship Committee. Members donated to this new scholarship, to which Ann will name a fortunate recipient. Also highlighted, was Cleo Gibson and her generous bequest. A video honoring her life and legacy, was shown. Click here to view on YouTube.
Outgoing President, Katherine (Bup) Greenwood has this to say of the two years she has served:
"Thank you for the privilege and the pleasure of serving as President. Way back in March 2020, we imagined the pandemic lockdown might extend for a few months, but figured we'd be back to normal for the September Brunch in 2020. That's because we are optimists and thank goodness for your optimism. As the pandemic continued, your ability to stay positive and solve problems, and to support each other, made this just another chapter in our progress, one with frustrations but also with laughter, camaraderie, and achievements." Click here for the full text of the President's end-of-year letter.
April 23, 2022, In-person meeting
After so much time apart, the Saturday general meeting was a fitting time to celebrate being together. Instead of a program featuring a speaker, Deb York along with a team of fellow members put together a format for sharing backgrounds, both academic and professional, a
nd experiences that demonstrate some of the ways in which a lack of diversity and inclusion was apparent. A compelling video on this subject was shown….CLICK HERE to view.
We were asked to share some of the highilghts of our discussions at the end and had some laughs and serious insights into who we are and from where we come. In the process some new acquaintances were made and friendships renewed. A slide show also was shown to demonstrate a wide spectrum of individuals who struggle with feeling included.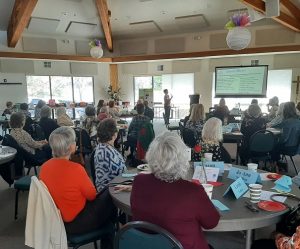 A public forum with more depth on the topic, will be held in the fall.
For more photos of the meeting, click: Jump to Branch Scrapbook
March In-person Meeting: Neurogenesis & Super-Aging
Jan Nottingham delivered a superb talk on super aging, challenging her audience to become "super agers." She began by covering a fascinating history of phrenology, the dated and now defunct perception of how the brain works and how bumps in the cranium indicate certain traits within the individual.
Jan went on, however, to talk about what we know today, the neural pathways in the brain and how we can keep these pathways alive and updated by a commitment to brain fitness–which, of course, involves body fitness. Jan has a compelling message which she reinforced with a handout, encouraging us to sow the "SEEDS-S" of good brain health: Sleep, Exercise, Education (some involving creativity), Diet, Stress, Sociability." The audience responded to Jan's humor and information with great enthusiasm!
This terrific program was recorded by our former Tech Trekker Ava, who is our go-to media expert.
Prior to the program President Katherine (Bup) Greenwood announced next year's slate of nominated officers for the Executive Board and appointed officers/chairs. See next month's Lodestone for the complete list.
Thank you all who attended. This in-person meeting was well attended as indicated in the photos below at the bottom of this window; click
---
AAUW is partnering with more than 150 organizations to host the Rally for Abortion Justice this Saturday, October 2. People will take action in 600+ events nationwide and online to demand an end to the dangerous, escalating attacks on reproductive rights and freedoms in this country. Join us!
We have long known that the day is coming when the Constitutional right to abortion will be challenged. While the Supreme Court of the United States has repeatedly confirmed this right since the Roe vs. Wade court decision in 1973, it has been systematically under attack for decades. States have enacted medically unnecessary restrictions and barriers making access inconsistent. The only answer now is Congressional action.
Access to critical health care should not depend on where someone lives.
This is where you come in: we need you now. Civic participation takes many forms, especially with an ongoing pandemic. Committing to calling your elected officials and empowering friends and family to join is just as, if not more, powerful than going to a rally or march in person. Please make decisions on where and how to advocate safely and take note of public health precautions required in your area. This weekend, you could:
Attend in-person: Check for a rally or march near you (and reach out to your state or branch to see if your local AAUW will be there!)
Engage virtually: Support the Women's Health Protection Act and take action on social media
Build community: Have a conversation with friends and family on the importance of defending reproductive health and freedom for all (read more in Where We Stand: Reproductive Rights)
Every person should have the ability to make their own informed decisions regarding their reproductive life. It is beyond time for abortion to be secured legally, funded fully, and equitably available for all who need it, when they need it, without shame or stigma.
Join us on October 2 and every day to protect reproductive health and freedom!
---
Branch Scrapbook
May 3, 2022 – Installation Luncheon
April 23, 2022 – General Meeting (Click here for more photos).
April, 2022, New Member Orientation (Click here for more photos)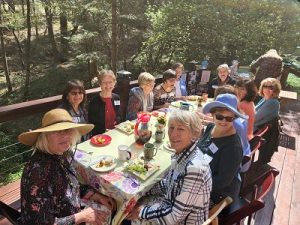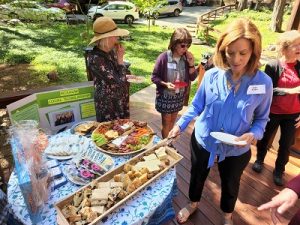 March 19, 2022: General Meeting featuring Jan Nottingham
Click here to view: A Stroll Down Memory Lane with AAUW Nevada County Branch of member activities created by Bernadette Sylvester.