Nevada County 2020 Tech Trekkers recognized amidst the challenges of COVID-19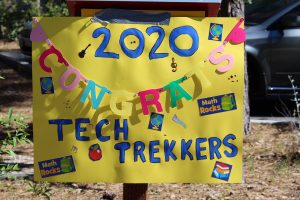 Wednesday, June 10, AAUW members and Tech Trek alumni greeted our 2020 Nevada County Tech Trekkers with snazzy congratulatory posters, cheers of support, blue and yellow balloons, cowbells and rejoicing as they arrived for the Recognition Event.
Sure, it took place in the Nevada County Superintendent of Schools (NCSOS) parking lot and in true Covid 19 style – face masks, social distancing, and the like. But not even a pandemic could dampen the enthusiasm for our nine 2020 Trekkers (Lexi Cookson, Molly Cordes, Bella Devely, Arianna Drageset, AJ Janow, Faith Krason, Rylie Mason, Lauren Metzger, and Addie Tice-Raskin) and their love of STEM!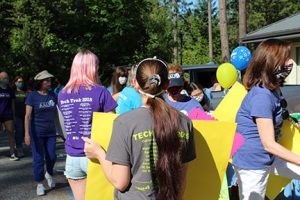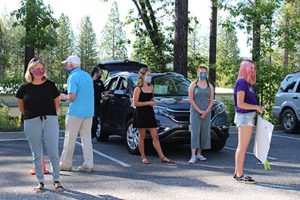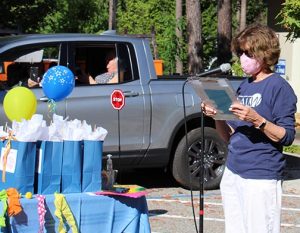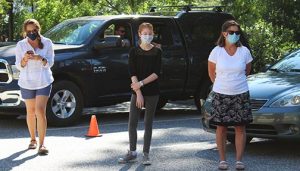 This year is of course not a typical year, and the 2020 Tech Trekkers will not be able to attend the Tech Trek Camp at UC Davis. They will, however, get to check out other STEM opportunities as the occasions present themselves throughout the year!!
Way to go 2020 Tech Trekkers!!
---
2020-2021 Board Installation via Zoom!
Thursday, May 21, 2020, sheltering in place still, AAUW Board members, appointed officers, and standing committee chairs were installed via a Zoom meeting. Outgoing President Virginia Horowitz led the meeting, paying tribute to newly installed President Bup Greenwood and named gift honorees. Pictured are those who could attend, which also included outgoing Board members.
In addition to Bup Greenwood, the Branch elected officers for the 2020-21 year include Melanie Heckel, Secretary; Jennifer Wilkerson, Finance Officer; Bernadette Sylvester and Penny Savelly, Program, Co-Vice Presidents (VPs); Francesca Erickson and Jo Ann Schilling, AAUW Funds Co-VPs; and Karen Smith and Shirley Zeff, Membership Co-VPs. The Branch officially kick off its 2020 -2021 year in September.
In addition to the installation of the new officers, Edi Silverman award recipient Susie Monary-Wilson was honored by previous year's recipient Stephanie Facchini.
For a complete list of the new Board, Appointed Officers, and Standing Committees, click here.
To view the Zoom Board Installation Meeting click here.
---
Rescheduled due to COVID-19 concerns.
Public Forum: Saturday, January 30, 2021
9:30 AM – 12:30 PM | Peace Lutheran Church | 828 West Main, Grass Valley

DOMESTIC VIOLENCE & SEXUAL ASSAULT:
HOW IT TOUCHES US ALL
A look at domestic and sexual assault from different perspectives. A panel of experts will include representatives from:
law enforcement
behavioral health
forensic medicine
judicial system
education
In addition we will hear survivors' personal experiences.
Please join us for a thought-provoking discussion of a topic that too often goes unspoken. Questions from the audience are welcome. FREE TO THE PUBLIC

---
Looking Forward to an End-of-Year Celebration
Now that 2020-21 officers were installed on May 21, we hope to still have a celebration/holiday party at the end of the year.
Program chairs Bernadette Sylvester and Penny Savelly will be planning this party. The date remains up in the air as we continue to hope we will be past the current COVID-19 lock down.
The party, when held, will be a celebration of not just the holiday season but a chance to reunite and socialize. We can experience the joy of coming together once again in friendship. Stay tuned and check the Lodestone and here for updates.
---
Branch Scrapbook