Public Forum: Saturday, January 30, 2021
Violence, a serious issue in normal times, has been exacerbated by the pandemic. This forum, which occurred on Jan 30, 9:30-11:30 AM, sought to elucidate the ways in which it can occur and the resources available to combat it. The forum was made possible through the support of the Nevada County Media. View the recorded forum video by clicking here. For information on what to do when you are concerned for someone you suspected may be a victim of domestic violence, go to the Community Beyond Violence website: : https://redcarpetball.wixsite.com/cbvmain/for-family-friends .
Jointly hosted and planned with Community Beyond Violence, work began more than a year ago. Carolyn Feuille, 2019-20 Public Policy Chair, and 'her team began in conjunction with CBV staff in the Fall of 2019. But due to Covid restrictions, the original live forum, scheduled April 2020, had to be been re-imagined as a virtual presentation. AAUW members on the planning team included: Chris Casey, Joan De-Marce Rutledge, and Deborah York.
Stephanie Fischer (key speaker) is the Executive Director at Community Beyond Violence (formerly DVSAC), whose mission is to offer resources for building healthy relationships and to work with community partners to provide services for healing the effects of interpersonal violence. Community Beyond Violence has been providing services to victims of violence and their families in Western Nevada County since 1978. Stephanie is a certified self-defense instructor and is passionate about serving this community.
A panel of presenters include:
Unique Online Market Faire–Success!
Branch members' and others' creations featured marvelous Art works, a fetching Array of aprons, tablecloths, napkins, quilts; Unique pine needle baskets; and a Wonderful selection of original holiday gifts (over 50!). This online event took place the last weekend of September.
The event netted $3,000, all of which goes to girls' scholarships. Big thanks to you all who participated by donating these superb items and those of you who bid and won! The event proved a fantastic team effort on many levels. See the October Lodestone for details….
---
Ladies' Night with a Cause, February 21, 2020
An ad hoc committee under the leadership of Amanda Welvaert and Stephanie Owyoung and with the assistance of some more seasoned members, Bup Greenwood, Martha Rees, Cece Royal, new member Priscilla Neilsen, and Deb Cubberley presented "Ladies Night with a Cause". This Friday night event aimed to attract younger women.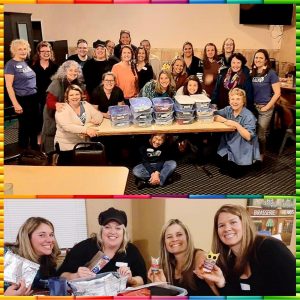 The purpose was to provide an opportunity for younger women in the community to congregate, enjoy themselves, work on a community project, and learn
about AAUW.
The community project consisted of creating craft boxes for use by CASA representatives.
It was, by all accounts, a successful evening. There was lots of camaraderie and fourteen craft boxes were produced and subsequently delivered to the Child Advocates' office. This ad hoc committee has yet to determine what the sequel to this event will be, but one is anticipated.
Fundraiser for 2020: Tapas & Trivia
Saturday, November 14, 4:00-7:00 PM
In the planning stages. Please stay tuned for details!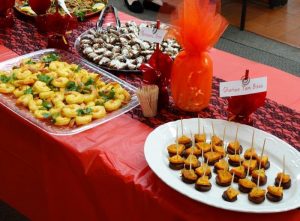 Reporting on the most recent Tapas & Trivia: Thanks to the efforts of the entire Branch, the second Tapas & Trivia, held November 9, 2019, like the first held in January 2019, was a huge success. According to Chairperson Bup Greenwood, the event netted over $17,000.
Local Scholarships receive 75% of the net, over $13,000; AAUW Fund receives 25%, over $4,000. Scholarships can be awarded to 2020's deserving women, changing their lives. For information and photos from both Tapas and Trivia events, held in both January and November 2019 , click here.