Special Public Forum Saturday, January 30, 2021
A look at domestic and sexual assault from different perspectives. A panel of experts will include representatives from:
law enforcement
behavioral health
forensic medicine
judicial system
education
In addition we will hear survivors' personal experiences.
Please join us for a thought-provoking discussion of a topic that too often goes unspoken. Questions from the audience are welcome. FREE TO THE PUBLIC

Please stayed tuned!
Ladies' Night with a Cause, February 21, 2020
An ad hoc committee under the leadership of Amanda Welvaert and Stephanie Owyoung and with the assistance of some more seasoned members, Bup Greenwood, Martha Rees, Cece Royal, new member Priscilla Neilsen, and Deb Cubberley presented "Ladies Night with a Cause". This Friday night event aimed to attract younger women.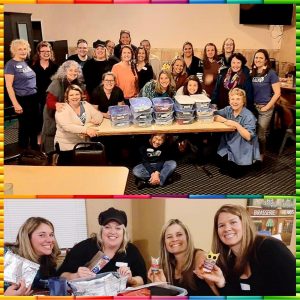 The purpose was to provide an opportunity for younger women in the community to congregate, enjoy themselves, work on a community project, and learn
about AAUW.
The community project consisted of creating craft boxes for use by CASA representatives.
It was, by all accounts, a successful evening. There was lots of camaraderie and fourteen craft boxes were produced and subsequently delivered to the Child Advocates' office. This ad hoc committee has yet to determine what the sequel to this event will be, but one is anticipated.
Fundraiser for 2020: Tapas & Trivia
Saturday, November 14, 4:00-7:00 PM
In the planning stages. Please stay tuned for details!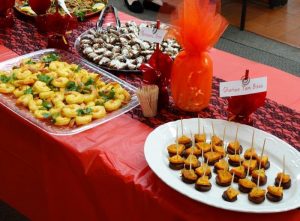 Reporting on the most recent Tapas & Trivia: Thanks to the efforts of the entire Branch, the second Tapas & Trivia, held November 9, 2019, like the first held in January 2019, was a huge success. According to Chairperson Bup Greenwood, the event netted over $17,000.
Local Scholarships receive 75% of the net, over $13,000; AAUW Fund receives 25%, over $4,000. Scholarships can be awarded to 2020's deserving women, changing their lives. For information and photos from both Tapas and Trivia events, held in both January and November 2019 , click here.