Hooray for our 2020 Trekkers!
"You're Awesome!" "Way to Go!!" "Congrats, Trekkers!!" AAUW members and Tech Trek alumni greeted our 2020 Nevada County Tech Trekkers with snazzy congratulatory posters, cheers of support, blue and yellow balloons, cowbells and rejoicing as they arrived for the Recognition Event. Even Superintendent Scott Lay, Associate Superintendent Teena Corker, and our NCSOS liaison Faith Yamamoto and several nominating teachers joined the festivities.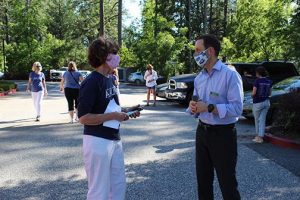 With the news that the 2020 AAUW Tech Trek camps would be cancelled, the Nevada County Branch put together a uniquely upbeat and heartfelt celebration! Sure, it took place in the Nevada County Superintendent of Schools (NCSOS) parking lot and in true Covid 19 style – face masks, social distancing, and the like. But not even a pandemic could dampen the enthusiasm for our nine 2020 Trekkers (Lexi Cookson, Molly Cordes, Bella Devely, Arianna Drageset, AJ Janow, Faith Krason, Rylie Mason, Lauren Metzger, and Addie Tice-Raskin) and their love of STEM! It was a good start to what promises to be an unusual, but enlightening and enriching experience for everyone involved.
On top of the recognition, the new Trekkers received a special 2020 Nevada County Tech Trek t-shirt, designed by Cece Royal, and a darling Tech Trek bear suffragette, created by Stephanie Facchini and her sister Royanne Wegner.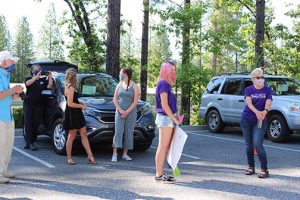 Kudos to our fabulous AAUW members who pitched in to make the uplifting recognition happen: Michelle Baker, Stephanie Facchini, Carolyn Feuille, Bup Greenwood, Chriss Hood, Candy Jewett, Vivian McKnight, Stephanie Owyoung, Penny Savelly, Jo Ann Schilling, Kathy Scott, Ann Shulse, Bernadette Sylvester, Carole Yettick
And, to our remarkable Tech Trek alumni Violet Frazee, Gina Genovese, Melina Handan, Mei Lin Heirendt, Allison Johnson, Ava Johnson, Jocelyn McKinley, Annabelle Owyoung, Sid Pixley, Faith Stubbs, and Eva Zlimen. What a village of extraordinary women!
Photos thanks to Bernadette and Ed Sylvester, Vivian McKnight, Stephanie Facchini, and Faith Yamamoto.
Tech Trek, Nevada County Branch
Since Tech Trek began in 1998, our Branch has sent more than 100 Nevada County 8th grade girls to the week-long residential science, technology, engineering, and math (STEM) camp held on college campuses. The program they encounter there is designed to encourage the girls to explore and expand their interest in STEM academic and career areas.
In 2019, we sent seven local girls to Tech Trek at U.C. Davis, where they experienced a range of hands-on classes, activities, and on-campus field trips in the STEM disciplines and got a taste of college life. The 2019 girls were: Kya Bommersbach– Chicago Park | Gina Genovese – Magnolia | Melina Handan – Seven Hills | Mei Lin Heirendt – Grass Valley Charter | Angela Martinez – Lyman Gilmore | Sidney Pixley – Union Hill | Madilyn Thaggard – Lyman Gilmore
What is Tech Trek?
Focused on science, technology, engineering, and math (STEM), Tech Trek is a weeklong residential summer camp held on eight different California college campuses and at universities and colleges in nine other states. With the help of our generous community, including businesses, foundations, and private individuals, AAUW Nevada County Branch has been sending local girls since Tech Trek began in 1998 and has sent more than 120 local girls since then. Currently, the AAUW Nevada County Branch provides sponsorships for seven girls each year to the Tech Trek @ UC Davis camp.
Designed for girls who will enter eighth grade in the fall, the goal is to develop interest, excitement, and self-confidence and encourage them to consider and explore academic and career possibilities in STEM fields. Through hands-on problem solving and encounters with women role models in STEM, AAUW Tech Trek helps girls see their futures while having nonstop fun. For many girls, the weeklong camp sparks their curiosity and places them on a path toward success.
All campers are nominated by their seventh-grade math, science or technology/computer teachers for sponsorships provided by their local AAUW Branch. The girls complete an application, write an essay, and are interviewed by AAUW Nevada County Tech Trek Committee Members who make the final selection. The branches fund the sponsorships that cover the cost of the camp, including on dorm and dining common as well as educational materials, etc. Each camper's family is responsible for a small fee which is due upon the camper's selection.
Find out more about what happens at AAUW Tech Trek at UC Davis: Link to https://techtrek-davis.aauw.net/
Why Tech Trek?
Research findings have shown that middle school is a critical time when girls tend to stray from studying math, science, and technology. It is clear that we need to ensure those girls who are interested can and will pursue these areas without any barriers. That's where Tech Trek comes in. Tech Trek is packed with hands-on experiments and learning experiences, including related field trips, guest presentations by professional women, and the chance to live on a college campus.

What Nevada County Trekkers say about their Tech Trek experience:
"I walked into Tech Trek as an eager girl hoping to learn more about STEM and do more hands-on activities, but I came out a confident young lady who has learned more about the world and all the opportunities it holds. Tech Trek is an extraordinary camp that changed my life, and will change other girls, too." Keegan
"It was one of the defining moments that motivated me to become a highly educated and successful young woman. This camp was also my first real experience to the college life and stepping out on my own. Gaining a new perspective on society and my peers instilled a drive to get to college and push myself outside of my comfort zone. There were so many attributes of the program that I carry throughout my daily life. That confidence of being an educated woman is key." Claire
"My experience at Tech Trek was simply amazing. It opened my eyes to the world of science and all the possibilities. I think it did a great job in awakening a great passion for science in me. I owe my success to the passion and drive instilled in me during my Tech Trek camp experience." Karrie
"To me Tech Trek was as much of a social experience as it was an academic achievement. It helped me to grow in many ways including helping me to realize what opportunities were available to me. It also exposed me to material that I would have never had access to in grade school or high school. I also appreciate that I had the chance to participate in this program because it made me realize that I could achieve more than I knew I ever could and it also helped me to realize that hard work does pay off." Alexis
What is the role of the AAUW Tech Trek Committee?
Committee members take part in local Tech Trek selection process activities, such as:
Building program awareness with school science, math, technology teachers who nominate students
Reviewing nominees' applications and essays
Interviewing nominees and selecting finalists
Raising funds to cover Nevada County girls attendance costs
Recognition and informational events for trekkers, teachers, sponsors