The AAUW Fund fights to advance equity for women and girls via a broad range of programs.
Our branch previously focused fundraising efforts on the Educational Opportunity Fund (EOF), which supports women's equity in education, career development, and community action; and on the Legal Advocacy Fund (LAF), which works to combat gender discrimination in higher education and the workplace.
In 2019, AAUW National consolidated, renamed, and renumbered all funds except the over-arching AAUW Greatest Need Fund. AAUW encourages donations to the AAUW Fund (aka Greatest Need) to permit flexibility in directing money where most needed. The chart below shows how the funds are distributed.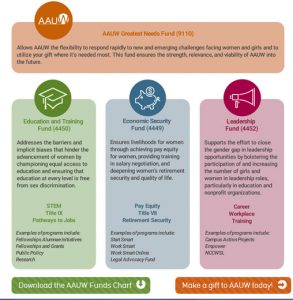 Members can still donate to two newly named funds, the Education and Training Fund, and the Economic Security Fund, if wanting to guide donations into education (formerly EOF) and/or legal advocacy (still named Legal Advocacy Fund). A third, Leadership Fund, is directed toward efforts to close the gender gap in leadership. All funds carry out AAUW's important mission. For more information, look online at http://www.aauw.org/resource/how-to-support-programs-aauw-fund-diagram. Contributions are fully tax deductible.
Our Nevada County Branch has completed four endowment funds that contribute to these awards annually. This year, our Ruth Phillips Endowment helped fund a Community Action Grant awarded to the Kal Academy and its project Director Kalpana Viswanathen. The Kal Academy addresses the underrepresentation of women in the technology sector through training and mentoring and even has a partnership with Microsoft that allows women to receive additional training on their campus. To date, more than 200 women have been successfully placed in technology jobs.
UNRESTRICTED – Recently AAUW National has been suggesting that donations be made unrestricted so they can direct funds where the need is the greatest.
To support these efforts, please send checks payable to AAUW Fund to P.O. Box 326, Grass Valley, CA 95945-0326. If you wish to designate the particular fund, please indicate on the check note line.